Hello everyone! I've been in a building mood in the Sims 4 lately. It's definitely become one of my favorite aspects of the game given how user-friendly it is to build. I've also been fascinated by tiny houses and thought it would be fun to build one. I was inspired by a house that I found on houseplans.com and added my own spin to it.
I will say, this house is TINY. There is room for 1 MAYBE 2 Sims at most. However, it is still reasonably affordable at around §31,000 (so not a starter house, but close!). Now, onto the tour!
As you can see from the picture above, there is a small pool off to the side of the deck that your Sims can enjoy. I also made sure to include lots of landscaping to add some color. It kind of makes the house look a bit like a tropical oasis.
Here is a close-up of the covered porch. I wanted to keep it fairly minimal and clean with a white table and simple lights and artwork. I'm happy with the result!
Inside I stuck with the green theme and made sure to include lots of house plants. Here is a shot of the living space with a comfy couch and the kitchen off to the side. The table on the covered porch is where your Sims will be eating their meals.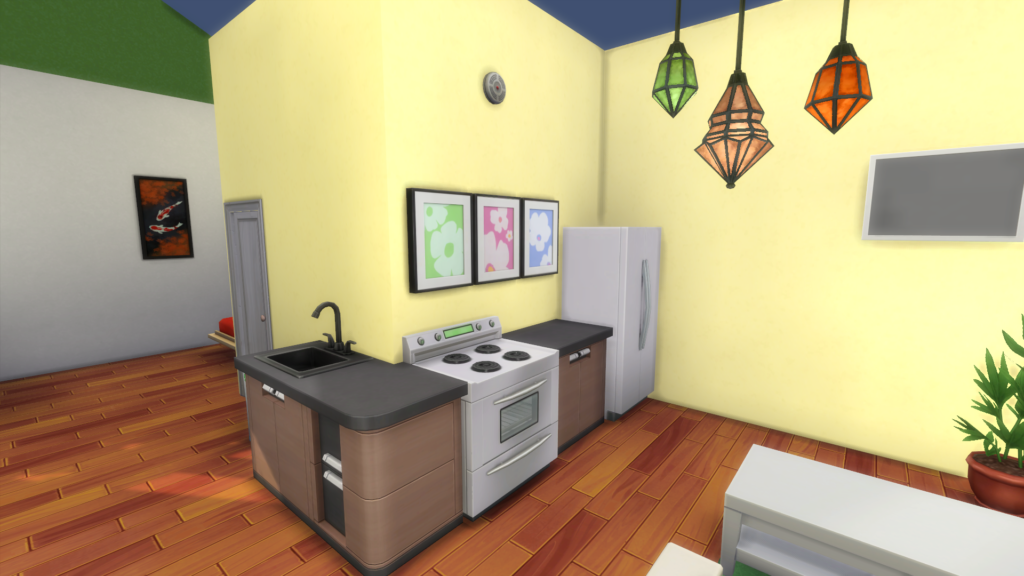 Here is a better shot of the kitchen. I had the cabinets wrap around the wall corner to allow for as much space as possible in this small little house. I also added a pop of color with the painting above the stove.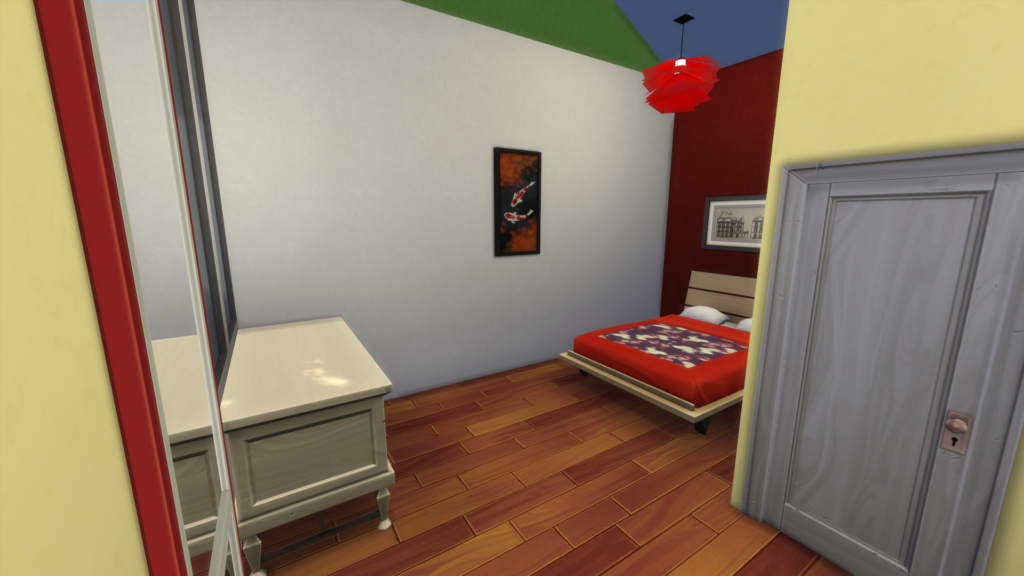 Around the corner we have the bedroom. I kept the majority of the space painted white, but added a bright red accent wall for a pop of color. Also, I REALLY love that bedspread. It's so pretty!
And finally we have the bathroom. You may notice that it isn't quite as bright and vibrant, but I was trying to go for more of a relaxing/spa feel with dimmer lights and a more muted color on the walls.
I hope you enjoyed this tour! If you'd like to download the house, you can find it on the gallery!