Hello everyone! Rory has done it yet again with another great monthly build challenge! I really enjoyed building this one. It felt like a super cozy vacation home that your Sims could go to when they want to get away from the hustle and bustle of their usual lives. I'd certainly love to stay here for a couple of weeks and relax in front of that fire pit and read a book. That sounds heavenly.
Below is a tour of this cozy and charming beach house.
As you can see from the screenshot above the house's exterior features a sandy beach with a firepit and palm trees. I also included some benches on the porch so that your Sims can hang out out there with some drinks or a book.
Here is a close up of the porch. I decided to add some flower vases for a pop of color.
Upon entering the house your Sims will find a great room with the kitchen and dining table off to the left along with a closet. I decided to stick with the blue theme that we had on the exterior and brought it inside as well. I just feel like light blue is a great color for a vacation house since it has such a soothing/calming feel to it.
On the other side of the great room we have the living room with enough seating for all of the residents of this house. I also included a cozy fireplace and a bookshelf.
Further into the house we have two bedrooms. Here is the first. The layout of the house on the blueprint showed what looked like 2 twin beds on other side of the rooms, so I decided to stick with that. This makes it feel more like a vacation house, which is what I was trying to go for.
Here is the bedroom on the other side of the house. As you can see, it's a mirror image of the first. Which is what the blueprint also showed.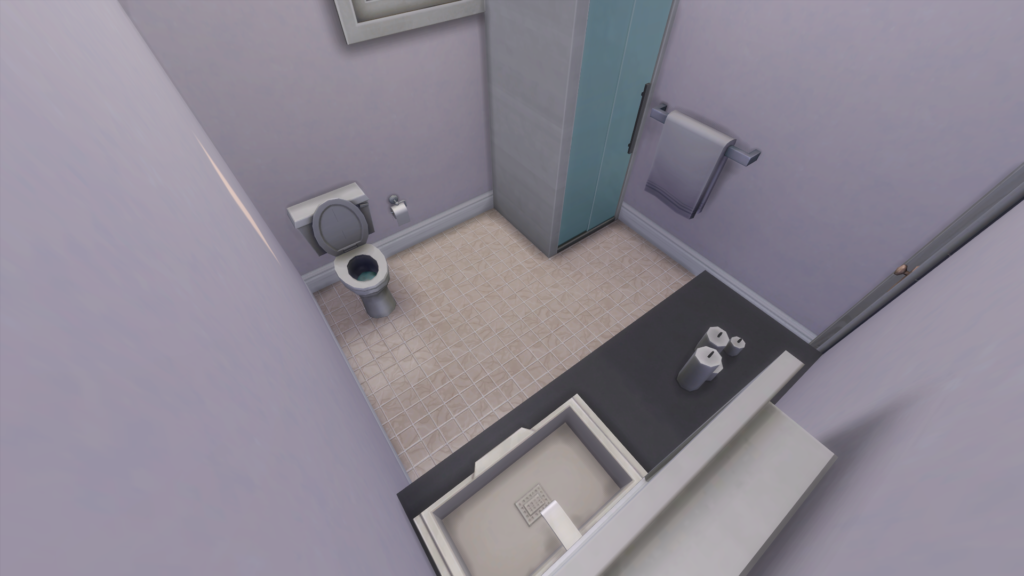 And finally we have the bathroom which is located between both of the bedrooms to help separate them a little.
Here is a top down view of the house. It follows the blueprint's layout pretty well and I'm happy with how it came out. Though I think I might have made it a bit bigger than I should have, haha. I also included a tent in the back of the house as the image that was posted on Rory's Twitter shows a tent behind the house.
Want to download this house? You can find it on the gallery.