Marle, as you can see, is extremely happy right now! Our last chapter of the Retreaux Legacy went MUCH better than the previous one. She now has a husband, a new job, and she's expecting generation two! So what better way to celebrate than by pretending to swim in a bathtub?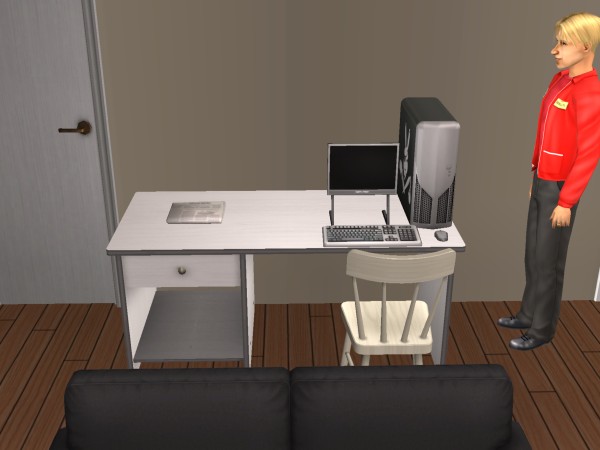 With all of the extra money that we've been bringing in now that Ti-Ning lives in the house, I was able to buy a desk so that I could finally place the gift computer that we got at the start of the game. Now we can play video games and, if we need to, search for jobs with more options than the newspaper.
Ooh! We're getting there guys! Looks like the third trimester has begun! I hope your ready Marle, having a baby is hard work. There are diapers to change (lots, and lots, AND LOTS of diapers to change), bottles to warm up, laundry to wash, and crying to soothe all on about two hours of sleep per day!
Oh sweet! Ti-Ning earned yet another promotion! I'll probably add on to the house a bit more after the baby (or babies) is born. Probably wouldn't hurt to add another bedroom and bathroom to the house since I tend to let my first generation have several kids.
Heeeeeeere we go! Before I announce the baby, I just wanted to remind everyone that I had created a poll in the last chapter for you guys to vote on what you thought the baby's gender would be, and whether you not you thought there would be twins. Here are the final results: 
The winner of the poll was girl. Let's see if you guys were right!
Marle and Ti-Ning have welcome in a blonde haired, blue eyed, rather skeptical looking…. GIRL! Congrats everyone! 67% of you guessed correctly! Sticking with the Chrono Trigger theme, I have named this little girl, Ayla. After my OTHER favorite character in Chrono Trigger (Marle being the other).
Marle and Ti-Ning are, so far, amazing parents. I don't even have to prompt them to care for little Ayla. They do it all on their own. I'm so proud of them! It probably helps that I had Marle study parenting before Ayla was born. Ti-Ning didn't read the book though, but he's doing just fine as well. It probably helps that they are both Family Sims.
After everything that Marle has been through in the last few chapters, I thought she could use some relaxing "me" time. So she is taking a bubble bath while Ti-Ning cares for Ayla.
And of course, this wouldn't be a Legacy without trying for more babies shortly after the first is born. The lullaby played too so, looks like we have another nooboo (or possibly nooboos) on the way!
We'll see what this new pregnancy brings in the next chapter! Any guesses on what the gender of the next baby or babies will be? (no poll this time, you can just write your guesses in the comments!)