The Sims franchise has been a part of gaming culture since 2000. In that time millions of people have played the game. For some it was just a nice little escape from real life, something that was played from time to time. For others it actually helped distract them from really difficult times in their lives while others met lifelong friends and even started a family. I fit into the latter two categories and it occurred to me, that I am probably not the only one.
I randomly had the idea for this article after talking to a friend about how The Sims has helped us through difficult times in our lives. This is definitely not a typical article for the Sims Legacy Challenge website, but I thought it was an important topic to discuss with readers. I will start the discussion off with my own personal experiences (some good and some not) and then, if anyone feels like sharing, you can respond with how the game has helped you.
This is probably the first time that I've publicly talked about how important the Sims has been in my life. I've mentioned it in passing on my Twitch and Youtube channels, but I never really went into great detail with it. Now I think I'd like to talk about it because I know I can't be the only one that the Sims has helped.
I've been a gamer for as long as I can remember. It all started when I was little (4 or 5 years old) and I would watch my dad play games on his old ColecoVision console (yes, I'm dating myself with that reference). My dad was always the driving force in my passion for video games. He was a gamer himself and watching him play video games really inspired my own love for it as well. I didn't purchase The Sims 1 at release, in fact I hadn't even heard of it at first. I was involved with another game at the time (Petz 3 if anyone remembers that game). However, that all changed in November of 2000. My dad, the man responsible for introducing me to one of the biggest passions in my life, passed away suddenly. He was sick for a while due to a genetic disorder, but we didn't realize just HOW sick until he fell ill while on a business trip in Texas. We flew down there to be with him in his final days. I was 15 years old and I was devastated.
Shortly after the funeral I went to my cousin's house and saw that he was playing a game called "The Sims". I had heard of Sim City, but I hadn't heard of The Sims. I played it for a bit and I was immediately hooked. My mom took me to CompUSA (another blast from the past) a couple of days later and I bought myself a copy. I played it EVERY DAY for months after my dad passed away. While the pain of my dad's death never truly went away (even to this day, there are days where I find myself crying because I miss him and wish he could have met my husband and kids) The Sims really helped to distract me from some of it. It was at that point that The Sims because a huge part of my life.
My story with the Sims 2 is much happier than that of my Sims 1 story. I purchased the game shortly after it released given how much I had loved The Sims 1. I was immediately hooked and, again, found myself playing it as often as I could (which was less than Sims 1 due to the fact that I was in college and working full time). About a year later I discovered Pinstar's Legacy Challenge on the forums and that brought about a whole new level of joy for me. I was so enamored with the challenge that I decided to message Pinstar and tell him how much I enjoyed it. That message turned into a 4 hour long conversation. We ended up becoming friends and about a month later started dating. As most of you know, Pinstar and I are now married (and have been for almost 8 years) and have two kids. And we never would have met at all if it hadn't been for The Sims 2 and our love of the series in general.
Fast forward to 2009 and the release of The Sims 3. Pinstar and I had gotten married 4 months earlier and were getting ready to move to our first house in upstate NY. We were temporarily living with his parents while we waiting for the closing date on the house. We pre-ordered Sims 3 and played it the minute it launched. It was while I was playing it on the day of its release that I got a call from my mom. My dog, the one we had adopted only weeks before my dad passed away, was losing his battle to bone cancer and was going to have to be put to sleep. He was only 8 years old. After the procedure was done, I yet again had the Sims 3 to help me cope with another loss. This time for a beloved pet who helped me get through the loss of my dad. A few days later, we moved into our house and were unable to play for a bit. But I was back to playing it as soon as my computer was hooked up. The Sims 3 helped me get through not only the loss of a pet, but also helped me cope with the stress of moving to a new state where I knew no one. I was so grateful for the game and the many friendships that I made in the community (many of whom I am still friends with today). Those relationships helped get me through the fact that I didn't know anyone local.
And finally we are at the Sims 4. Shortly after The Sims 4 released Pinstar lost his job with the company that he was with for 10 years. We decided to make The Sims Legacy Challenge website at that point as we had some extra time on our hands while he looked for a new job. Yet again, we found the Sims series helping us through an incredibly difficult time. And this time, we got to share our passion for the game with all of you through this website and our Youtube and Twitch channels. Since then Pinstar has gotten a new, awesome job. We have moved yet again and the Sims series has helped us adapt to our new lives in another new state. We even have 2 kids that greatly enjoy watching us play the game now too. Our oldest sometimes even plays it himself and loves it.
It always amazes me just how important this game has been in my life. I can't say this about any other game I have ever played. Not one. The Sims has helped me through some incredibly tough times, and has also been there during some amazing times as well. I wouldn't have the family that I have today or many of the friends that I have today if it wasn't for the Sims. I can literally look at both of my sons and say, "You are here because of The Sims." And that's pretty awesome. I may take my breaks from the game from time to time (burnout happens), but I always come back to it. It will always be part of my life. And I am so incredibly grateful for that.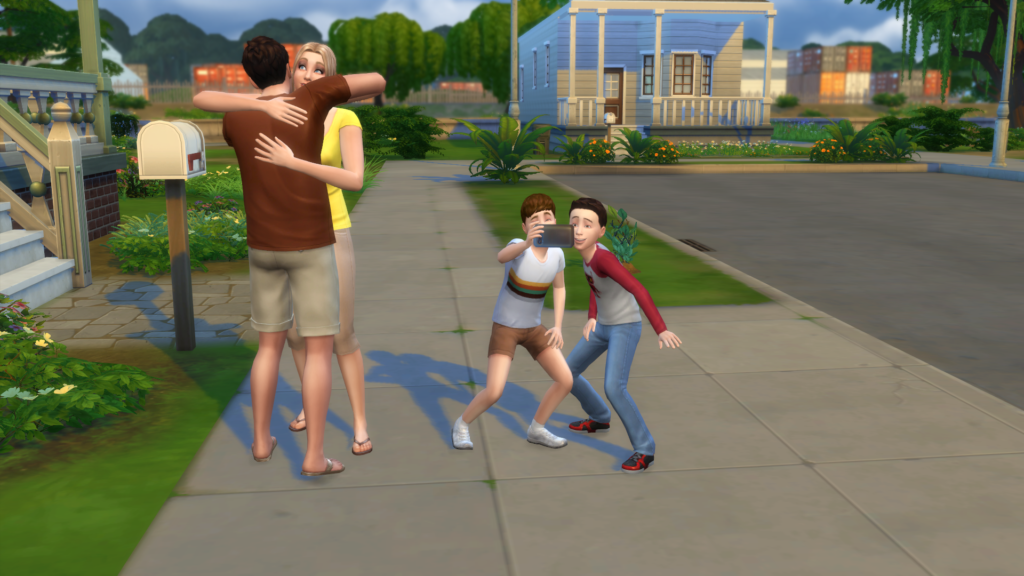 So what about you? Do you have any stories about how The Sims has affected your life? I'd love to hear it! I'm actually thinking about doing a stream on Twitch at some point where I discuss this topic with you all. I LOVE hearing about how The Sims have affected the lives of others. I know how important it is to me and I'd really love to hear how important it is to you too. Want to share your story in your own blog post or Youtube vlog? Feel free to share the link with me on Twitter with the hashtag #simsandreallife! I think it would be great to see how many stories we can get and share some positivity about the game that we all love so much.